Smartlab 16 CHANNEL Relay/16 Photo Isolator Card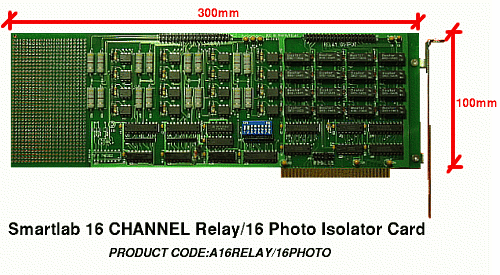 The 16 channels relay output / photo isolator input adapter provides relay output functions. The relay output part provides 16 relays to drive 16 different output channels. Each relay channel can be used to control ON/ OFF of external devices, to drive external high power relays, to activate alarms... etc.

The photo isolator input part provides 16 photo couple digital input channels, which allow the input signals to be completely floated and prevent the ground loop.

Features :

| | |
| --- | --- |
| | Support 16 relay output channels and 16 photo couple input channels |
| | Max contact rating for relay: 150V / DC 1AMP. |
| | Response time for relay: 1 ms minimum. |
| | Contact resistance for relay: 0.2-OHM maximum. |
| | Support several operating modes which are Programmable |
| | Sixteen LED indicate when I/O is operating. |
| | Port address selectable. |
The package includes following item

| | |
| --- | --- |
| | 16 channels relay output / 16 channels photo couple input adapter. |
| | User's manual. |